Blah.

I'm suppose to be working on my homework that is due tomorrow. I still have four assignments. FOUR! The bad part...they are super easy compared to the last class but I can't seem to bring myself to do them.

Silly, isn't it? Once I complete them I can done with school until January 10th. Yep, I'll have over a month free but apparently that's not enough motivation to get me going.

Neither is the housewarming party I want to go to this evening that I will have to skip so I can work on homework instead. I'd really like to go too but I just can't seem to get my butt into gear.

I've already missed two other parties due to having to do homework. At least I didn't feel like a total shlump with those though because I was re-listening to my classes and taking exams.

I wonder if I burnt myself out a bit with all the shows, efw, cib, school, family crap and then my regular day job on top of it. I've been going non stop since the beginning of October but two months seems pretty quick to get burnt out.

I don't know. Maybe I'm just being lazy.


---
Not sure why but after I typed the first part of this post I started working on one of my assignments. Granted, first I finished up some pendants I was working on and then I felt the need to stop and doodle this sad little doodle: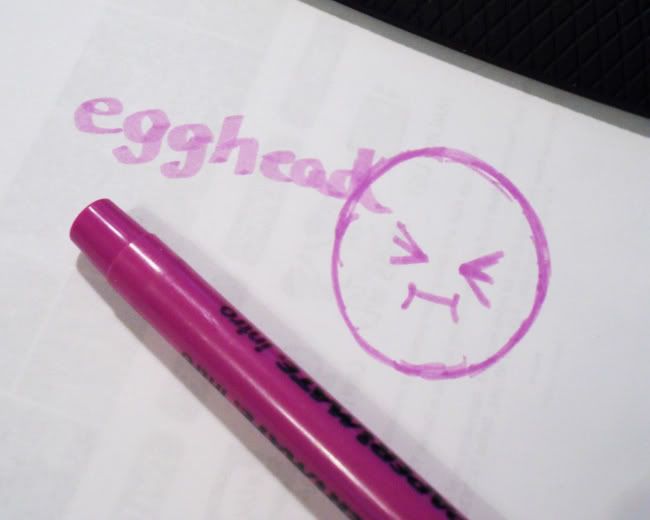 but then I started working on an assignment and I think I discovered my problem. The assignments are simply too easy.
Hopefully by typing this I won't be jinxing myself when my next class starts but I was sitting there typing up the essay just marveling how how simple it was. Every single paragraph is fact, relate, answer. It's boring.
*Watch me say this and then completely bomb the assignments! How humiliating would that be?*
No wonder I kept putting it off! If it's a challenge I have to work on the essays for weeks which I had to last class but this time around, nope. Maybe I should have
started
with this class...