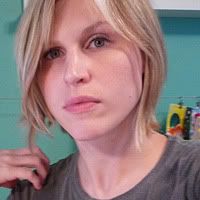 I am Jennifer Williams, a 30 something, wife, fitness lover and artist. I was born and raised in Fort Worth, TX where I now live with my husband and pets.
I have a background in advertising & public relations, client services, mortgage law, and paralegal studies. I began selling my artwork via
Blueskysunburn Creations
, in 2008 and founded a nonprofit, all volunteer co-op,
Etsy Fort Worth
, in 2009.
I created
Trial and Error
in 2006 and in it you will find posts about family, fitness, art, recipes, movies, books and yes, even work (insert *gasp* here). I share victories and happy family moments, rant and complain and sometimes walk away with my foot in my mouth.
Like most others, I feel the need to connect with like-minded people. I love sharing my opinions and receiving feedback in return. I am happy to hear from all who drop by and I feel very rewarded with the relationships I have developed over the years.
Family and Home
My husband Cory and I have been together since sometime in 2002 and happily married since April 2005. Cory works full time as a GM mechanic and spends the majority of his spare time playing video games, bowling or talking to his friends about one of the two. He's a wonderful man for putting up with me and I love him dearly.
Cory and I bought our first home in
Fort Worth, Texas
back in December 2006. I can't believe it's been that long already! In the time we've lived here we have painted (and repainted) every paintable surface available, had to get a new roof, furnace and ac unit, resodded our lawn and lost a 15 year old tree to a storm.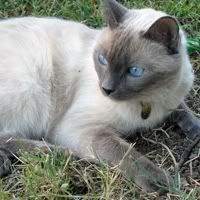 This is Hailey, our spoiled little bluepoint
Siamese
and the ruler of the roost. She knows you open the door with a doorknob (though she's not tall enough to do it) and plays "catch" and "fetch" like a dog. Her favorite thing is to go in the backyard to eat grass, sun on the concrete and watch birds. She's slowly starting to warm up to our dog. She'll now tolerate being within five feet of her as long as there are no sudden movements.
Dixie is the newest addition to our home. She is a
German Shepherd
/
Great Pyrenees
mix we rescued from the pound at four month's old. After she grew out of her puppy phase of chewing up everything in our home she's become a very loyal and obedient pet. She likes to know where Cory and I are at all times and has to be in the same room as one of us. She's very smart and eager to please.
Thank you for taking the time to learn more about the person behind this blog! Let me know you've stopped in by leaving a comment and if you like what you see, don't forget to
subscribe
.